Blogs and news
We will be updating this page with blogs to provide you with different perspectives from our Age Innovation Hub community and regular news updates on how we are progressing.
Categories
Co-Production Collective: working to ensure research is accessible to all
Niccola Hutchinson-Pascal and Lizzie Cain are part of Co-Production Collective, whose vision is a world where diverse knowledge and lived experience is as considered as important as researcher input in the development of research. Below, Niccola and Lizzie outline the Collective's approach to co-production and discuss how they are working to influence culture change.
In recent years there has been growing focus on co-production in research. It has become a bit of 'a buzzword' with many funders asking for it as part of research proposals. Unfortunately this has sometimes resulted in what has been coined 'faux-production', pretend or fake co-production. Authentic or 'real' co-production requires significant commitment, but the resultant research will be so much stronger for it. 
Co-production Collective is a community where everyone is welcome. Together, we learn, connect and champion co-production to create lasting change. We have avoided getting too tangled up in debates about the 'definition' of co-production. For us, co-production is an approach to working together in equal partnership for equal benefit. It means living our Core Values (shown below) in the way we work, whether that's checking and challenging ourselves and each other, or taking the time to reflect on our activities to see where we can learn and improve. We are human, inclusive, transparent, and challenging.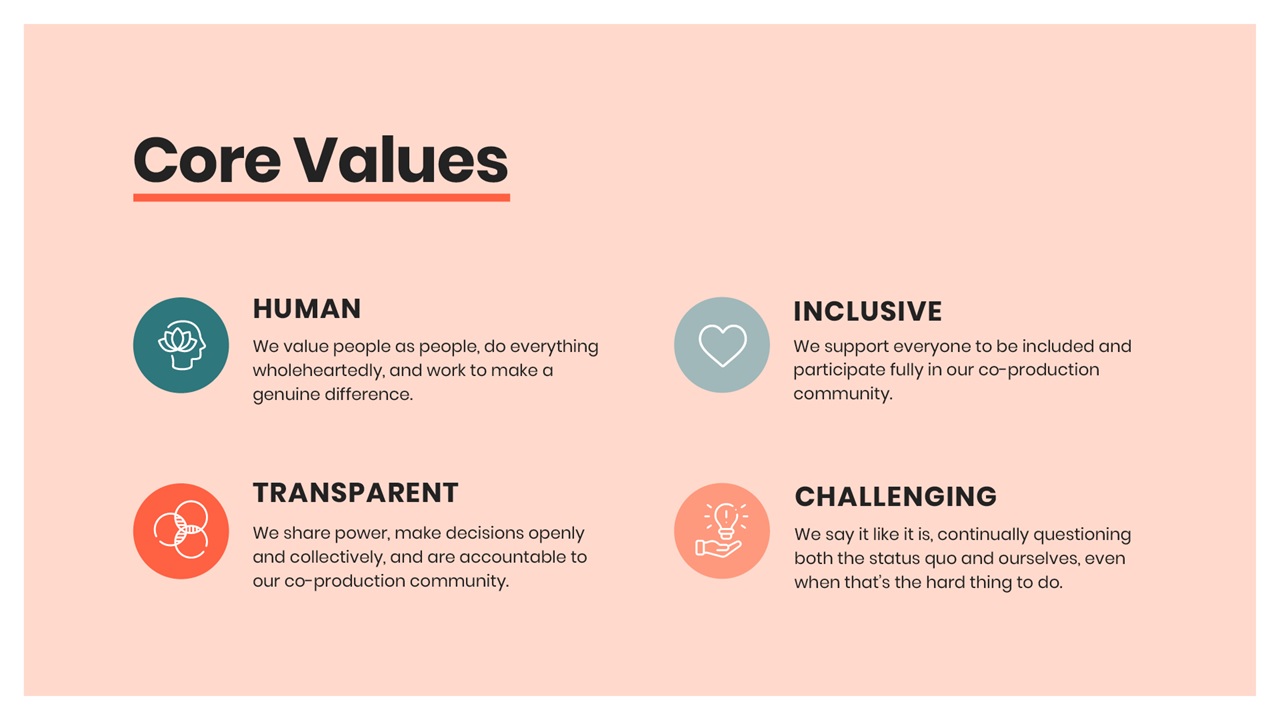 Image credit: Co-Production Collective, Our Values (@UCL_CoPro)
We are ONE team
It is great to hear that the Age Innovation Hub are interested in exploring 'the democratisation of who is considered an expert'. At Co-Production Collective, we consider ourselves 'one team', colleagues and friends all sat around the table together (real or virtual) sharing power and decision making throughout. As the artwork below (from one of our co-producers Beth) demonstrates, we don't believe any individual person's skills or experience are more important than another's - they are just different. We all sit around the table as equals.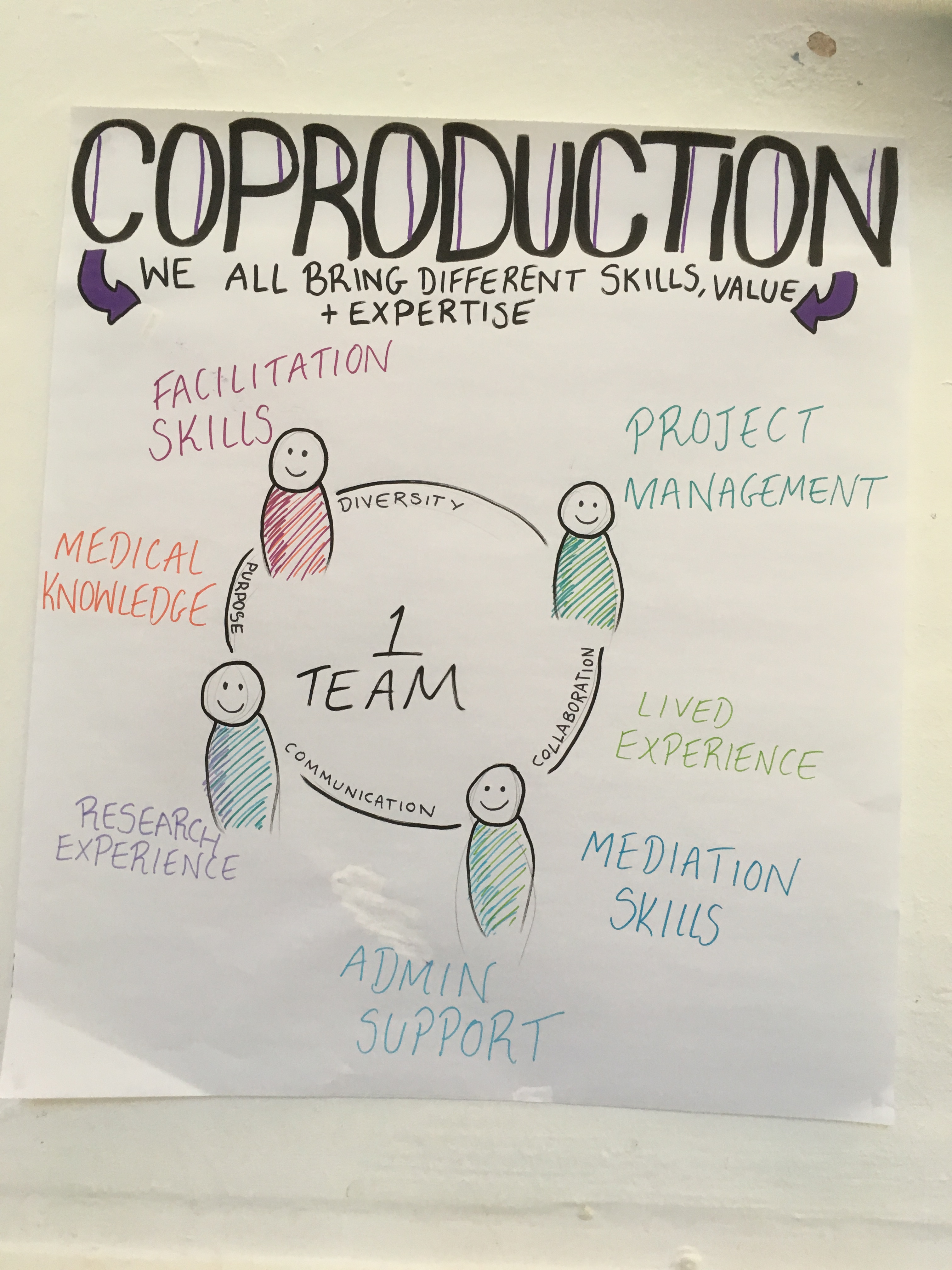 Image credit: Co-production's One Team, Beth Ingram (@Beth_1day)    
Inclusivity 
Being inclusive is key when it comes to co-production and should be considered in everything you do. Are you excluding people by using complex language or jargon? Was everyone able to participate in your session, or were some people struggling? Also, as a Collective we are very vocal about the importance of opening up opportunities to a diverse group of people (please feel free to have a read of Space Wars: exclusion from researchand HARD TO REseARCH: black inclusion in researchand It's not enough to say Black Lives Matter).
Making sure your activities are accessible is also very important. For example, think about the fact that many online collaboration tools do not work for someone who is using a screen reader, or even sometimes for people using a phone, and proactively decide to use something else. Or, if the session is face-to-face, make sure that the venue is wheelchair accessible, there won't be loud noises outside, or very bright lights that might be difficult for someone with sensory needs to manage.
Learn more
If you'd like to find out more about Co-Production Collective, you can start by checking out our brand new strategy: 'Our Direction 2020-2022'.  This sets out who we are and what we're working towards. You are also more than welcome to join any of our events or co-production opportunities, which take place both online and offline. They are not training sessions (although we will be launching some training soon) but they are a chance to experience co-production, make connections and learn as you go. 
The best way to keep up to date with what we have going on and to find out how to join sessions is to sign up to our newsletteror feel free to visit our webpage.
We look forward to meeting you soon! Feel free to email us on coproduction@ucl.ac.uk- we're always up for a chat!
Thank you,
Niccola and Lizzie
This post was edited on Dec 14, 2020 by Georgie Cade