Blogs and news
We will be updating this page with blogs to provide you with different perspectives from our Age Innovation Hub community and regular news updates on how we are progressing.
Categories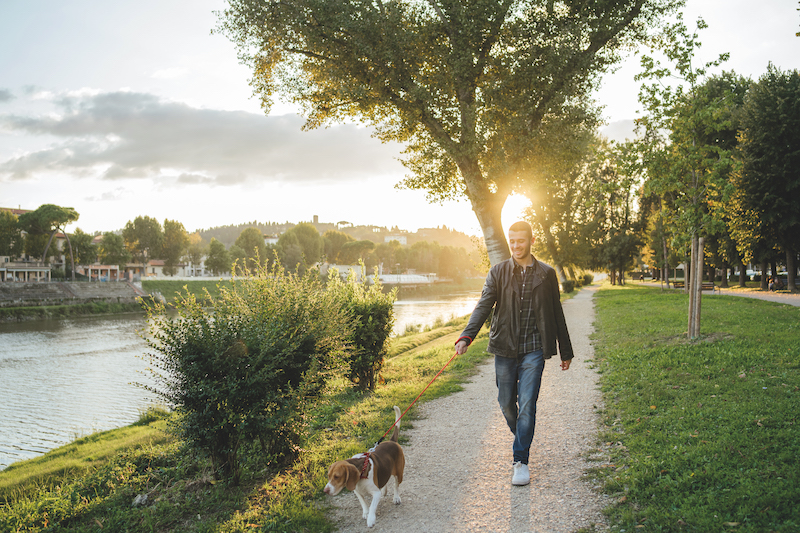 Healthy ageing is a national and international strategic priority, and it is one of the Institute of Healthcare Engineering's priority research areas.
The IHE has hosted a range of activities in light of this strategic priority, including a Healthy Ageing Symposium in 2019, and launching the Age Innovation Hub in 2020. The activities aim to find and address the gaps in healthy ageing research by building a diverse collaborative community that can co-develop innovative ideas.
In January 2021, we hosted a policy workshop on healthy ageing in conjunction with the STEaPP Policy Impact Unit (PIU) and CelebrAGE.
Dr Ana Rita Pinho, a policy adviser from the Policy Impact Unit (PIU) working with the Institute of Healthcare Engineering, led the organisation of the workshop. A wide range of stakeholders from the university and policy communities were invited to participate, with the goal being the development of research questions with value for both sectors.
Following the event, discussions from the workshop were distilled down to the core messages. These have now been turned into five policy briefings – each focusing on a different area of concern for the ageing population.
You can read the findings below:

Are you concerned that your balance is not good, or have you had a fall? Are you aged between 65 and 80 years? We would like to hear from you, for research purposes. Please read on: 
As people age the risk of falls increases. Falls are the world's leading cause of unintentional injury and hip fractures and may increase risk of mortality, especially in the over 60s. They result in a huge burden on years lived with disability, globally contributing to 38 million disability adjusted life years (DALY). Falls cost our NHS £2.3 billion each year.  
Multisensory exercise is proven to improve balance , both for people with inner ear balance disorders and older adults who are at risk for falls, or have fallen in the past year. Exercises are typically provided as a generic home exercise programme in the form of a pamphlet, for people to perform independently with routine check-ups. In some instances, people may be referred for supervised exercises either in a community setting (such as a falls clinic) or in a one-to-one setting. Many exercise programmes have been developed, but most provide only basic balance exercises to help improve balance. 
People with balance problems may rely more on vision for balance and may experience unpleasant feelings of motion, blurred vision and/or unsteadiness when moving their head while walking. Customised exercise programmes to reduce these symptoms have been developed and have shown promise in reducing symptoms and improving balance. Although customised exercises may provide additional benefits compared with traditional programmes, they are costly to run and require many face-to-face appointments with a physiotherapist.  
Recent advances in technology have allowed us to make a personalised, computerised, interactive home exercise programme (HOLOBalance), with funding from the European Community Horizon 2020. HOLOBalance provides an augmented reality (AR) physiotherapist, exercises and games by projecting a hologram into your room via a lightweight headset. The system records you whilst you perform the exercises using body worn sensors, so that your physiotherapist can monitor your performance and progress and change your exercises without you having to visit them. Alternatively, you could visit a clinic and your clinician will be a hologram (HOLOBox) that  will guide you through your exercises, monitoring you using sensors and advising you on technique. 
 In this project, we are investigating the feasibility and acceptability of providing a 10-week Holographic Balance Rehabilitation programme (HOLOBalance), compared to a commonly used balance rehabilitation programme (The OTAGO HEP). 
You may be suitable if you: 
Are aged between 65 and 80

 

Can walk 500 metres outside (with or without a stick)

 

Have fallen or are concerned about falling

 

Able to attend a twice weekly rehab session for 10 weeks

 

Are not currently participating in falls rehabilitation

 

Do not have a neurological disorder (

e.g.

 stroke)

 

Do not have any acute medical issues that limit your ability to participate in an exercise programme

 

Do not have low mood

 

Do not have cognitive impairment

 
You will be required to undergo a brief screening session
to confirm eligibility prior to
enrolment
 If you are interested to participate and for further information please contact 
 E: carol.flavell@kcl.ac.uk or E: marousa.pavlou@kcl.ac.uk 
T: 07563069162 (leave a message) or 0207 848 6679 
Project website: https://holobalance.eu/  
Jack Stancel-Lewis (UCL), Carol Flavell (KCL), Marousa Pavlou (KCL), Doris-Eva Bamiou (UCL). 

Living longer has become commonplace globally. A longer life provides opportunities for people to take part and contribute in many ways towards their families and communities: taking up a new career, a long-ignored passion or education. However, the freedom to explore these things in old age and maintain a level of independence depends on one thing: health.
Despite being of the same age, older people, aged over 65 [1], can appear remarkably different to one another because of differences in both physical and mental health [2]. An increased life expectancy doesn't automatically mean good health and quality of life. Ill health may require increased medical or social care. Older people are the most common users of medication [3]. Many are prescribed multiple medicines to manage their conditions, which in a smaller number of cases, can have a greater potential for harm than benefit [4,5], since many medicines aren't designed for this population.
Before a medicine is licensed, pharmaceutical companies must demonstrate the safety and efficacy of medicines to local healthcare regulatory authorities [in the UK, Medicines and Healthcare products Regulatory Agency (MHRA), in Europe, the European Medicines Agency (EMA) and in the US, the Food and Drug Administration (FDA)]. Collecting this evidence requires multiple stages of design, development, and many mechanical, animal, and human tests, all of which have significant time and monetary costs. Medicines with regulatory approval, whilst safe and effective for the conditions they are licensed for, do not always address the challenges faced by patients in the real-world, as many medicines are not designed explicitly for use in older people. This can result in patients taking medicines the wrong way – such as chewing or crushing them – which can have an impact on how well the medicine works which can affect overall treatment outcomes.
So, what about acceptability?By definition, medicines acceptability is 'the ability and willingness of a patient to self-administer, and also of any of their lay or professional caregivers, to administer a medicinal product as intended' [2]. The acceptability of medicinal products plays a fundamental role in overall adherence to prescribed treatment, since, by encouraging self-administration and management of medicines, all patients could have greater independence [6]. Understanding medicines acceptability requires considering:
Patient factors (for instance age, health status, disease state and ability to swallow),
Drug therapy-associated factors (including length of treatment and taking other medicines), and
Socio-cultural factors (such as how the medicine is taken, the availability of carers and where the person stays) [7].
In 2020, the EMA published a reflection paper [2], recognising the importance of medicines acceptability data and its requirement when submitting documents for market approval of medicines for older people. Importantly, the EMA position on acceptability data isn't limited to just medicines for older people, but follows separate guidance published on medicines for children almost a decade beforehand [8]. The guidance provides hope that the newest generation of medicines will be assessed for acceptability and appropriateness in the final patient cohort, leading to reduced use of unlicensed medicines in older people.
How can I help? – A question synonymous with my duty as a healthcare professional and life as a researcher.
Pharmaceutical companies involved in the design and development of age-appropriate medicines now need new or alternative ways to assess medicines acceptability. Research projects at UCL School of Pharmacy are modifying existing equipment and developing new age-appropriate tests to help reduce time and monetary costs of collecting and analysing medicines acceptability data.
For older adults, these collaborations could provide some degree of autonomy, promoting older people living at their own homes to self-administer and self-manage medicines without informal (i.e., family and friends) or formal (i.e., registered carers) assistance. As the next generation of medicines are assessed for acceptability and appropriateness, we will see a reduction in unlicensed medicines use, further enabling independence in the medicines taking process in older people.
The newest guidance from regulatory authorities demonstrates the value of medicines acceptability data in the design, development, and administration of medicinal products in older people. The latest research developments and partnerships will help to reduce real-world challenges faced by older people. Promoting independence through medicines self-management is just a matter of time.
1             NHS. (2020) Improving Care for Older People.
2             European Medicines, A. (2020) Reflection paper on the pharmaceutical development of medicines for use in the older population. EMA 44 (October), 6-23
3             World Healthcare, O. (2019) Toolkit for Research and Development of Paediatric Antiretroviral Drugs and Formulations. WHO, 84-109
4             Hajjar, E.R. et al. (2007) Polypharmacy in elderly patients. Am J Geriatr Pharmacother 5 (4), 345-351
5             World Healthcare, O. (2017) Medication Without Harm - Global Patient Safety Challenge on Medication Safety. World Health Organization, 16-16
6             Squires, L.A. et al. (2013) A Systematic Literature Review on the Assessment of Palatability and Swallowability in the Development of Oral Dosage Forms for Pediatric Patients.
7             Liu, F. et al. (2014) Patient-centred pharmaceutical design to improve acceptability of medicines: similarities and differences in paediatric and geriatric populations. Drugs 74 (16), 1871-1889
8             European Medicines, A. (2013) Guideline on Pharmaceutical Development of Medicines for Paediatric Use Guideline on Pharmaceutical Development of Medicines for Paediatric Use. EMA

This blog was written for Age Innovation Hub by Chiara Scarampi, a research associate at the UCL Institute of Cognitive Neuroscience.
Chiara works with Dr Sam Gilbert to understand how external tools and reminders can be used to optimise memory, and in particular the remembering of future intentions and planned actions (for example, remembering to return a rented book or call a friend at an appointed time). This topic is highly relevant when considering how technologies can help us age more healthily and remain independent throughout the lifespan. 
The ageing process can lead to subtle changes in memory so that it might take longer to learn new information and we might forget things more easily than in the past. Although forgetfulness is part of the normal ageing process, memory failures can be frustrating and, sometimes, have severe consequences, such as forgetting to take medications, or taking multiple doses because we don't remember if we have already taken a medication.
These are concerns common with age and the UCL Age Innovation Hub community has posted a few comments on the topic (https://ageinnovationhub.crowdicity.com/post/3668181). 
There are several memory aids that can help remember important everyday tasks, such as calendars and lists, but little is known about whether they are used effectively to compensate for age-related changes in memory.
In a recent study, published in Psychology and Aging, we explored how effective the use of reminders is for older adults compared to younger adults.
In the study, a group of older adults (aged 65-84) and a group of younger adults (aged 18-30) performed a brief task where they had to remember information either using their own memory or with the help of external reminders. This was followed by a memory test to investigate whether age differences in memory were reduced (or disappear) when participants were allowed to use reminders to help themselves remember.
When using their own memory, the older group remembered less information than the younger group. Additionally, older adults were overconfident in their ability to remember information and did not fully benefit from the possibility of using reminders to support their memory. 
Overestimation of their memory abilities may lead older adults to avoid using external aids, even though they can be highly effective. This result points to the importance of designing interventions aimed at helping older adults better evaluate their abilities and promote optimal use of external memory aids, with the final goal of supporting older adults' independence and health-related behaviours such as remembering to take medications.

Dr Nazia Mehrban is a UCL Ear Institute Senior Research Fellow and an Institute of Healthcare Engineering Impact Fellow. Here she tells us the story of her unique background and the lessons she learnt towards building implantable materials towards engineering new tissue.
Disease, damage and ageing. How do you fix tissue that is deteriorating? Most people would say that's the surgeon's job. But what if that does not work? What are your options?
This is where tissue engineering comes in. This involves the isolation of a few healthy cells from the patient, growing them in a lab and introducing them back into the patient to repair the damaged site either with or without the support of materials to hold the cells in place. I specialise in producing materials that support cells. They are like scaffolding on a building. They also give the cells and surrounding tissue instructions and cues on building new healthy tissue, often through additional chemistry and sometimes physically. These 'smart' materials lay the foundations for restoring tissue function in the patient.
I spend the majority of my time studying nature; trying to take apart existing structures, like proteins, in order to understand how to build new materials. The more 'natural' the materials are the more likely they are to be accepted by the body. This isn't too far removed from taking apart a toy and trying to put it back together to understand what made it move. Except my toys are proteins. By understanding the 'Lego bricks' that make the proteins work in a certain way (known as amino acids) I have built new materials that can communicate with cells. I have added chemical instructions into my materials that tell the cells to move in a specific direction. I can also make the cells attach to their surroundings. I can instruct the cells to grow and cover a wound site. Most importantly I can make the cells behave in a way that is expected in healthy tissue within the body.
However, creating smart materials in a lab is a different matter to introducing them into the body. In the lab we can control the environment. We control what we give to the cells to keep them alive and we control the environment around them. In the body, the cells (and materials) are surrounded by other tissues and all of these surrounding tissues have their own chemistries and stiffnesses which may not match our material. We also need to remember that as the patient moves after the surgery then so does our material. Finally, there is the immune response; the body's natural defence mechanism that may be triggered by any new and unrecognisable materials entering the area. I therefore try to deal with these issues at the beginning, i.e. at the design stage. The materials are designed to function best at body temperature. The amino acids I use (the Lego bricks I referred to earlier) are all-natural and I try to match the stiffness and chemistry early on in the process. I can tune the materials in a controlled way in the lab to reduce the chance of unwanted surprises further down the line. In this way I have tailored the materials towards repairing neural tissue, skin and fat though the applications are endless. Working with scientists in the US I have also shown that the materials have a positive effect on the body and provide the necessary instructions for the body to repair wounds.
Designing materials for the human body is not an easy task. The materials I create are a product of lengthy conversations and valuable input from biologists, chemists, engineers, clinicians and roboticists. You may be wondering why roboticists are on the list. When we mention robots people think a human-like android. This is one interpretation of course but in the medical world, we use the term to mean instruments that help in surgical procedures for example and even moving devices implanted into the body. It is this last example that I am interested in.
Soft robots are robots that are created from materials that can twist and bend. Some soft robots are worn on the outside of the body to support and guide movement, known as prostheses and assistive devices. Others are implanted into the body to mimic organ function, such as heart valves. I am currently developing a new group of materials that will sit in between the body's own tissue and these robotic organs. I would like to create a material that can support the device while also providing chemical and physical instructions to the surrounding cells. Ultimately, I hope not to trigger the body's defence mechanism, i.e. to convince the body that the device and materials are part of its own tissue and have always been there. The materials we develop today are no longer the simple scaffolds I describe at the beginning of this article; they guide and instruct cells and provide a convincing copy of natural biological processes. In essence, they are smart enough to provide a veil from the immune system and ultimately reduce the risk of rejection. These are the techniques we are now using to patch up patients and help people live longer.
The progress I, and other researchers, make is highly dependent on the research funding bodies. Thankfully countries around the world recognise the importance of funding innovation in healthcare. Similarly, in the UK the funding for Transformative Healthcare Technologies  remains a strategic priority (as described in the House of Lords January 2021 report on 'Ageing: Science, Technology and Healthy Living'. With the funding future looking bright I hope to continue making progress in my research towards nature-inspired tissue engineering.
For updates on this research please follow @NMehrban and @Health_Eng on Twitter

On 15 January 2021, the House of Lords released a report on their inquiry 'Ageing: Science, Technology and Healthy Living'.  
They found that:
Scientific developments have the potential to improve healthy ageing
The UK is a global leader in drug development and new technologies
Inequality plays an enormous role in healthy life expectancy, and COVID-19 is expected to increase the gap
There is evidence that the rate of multi-morbidity is increasing and specialised clinicians are required
Background to the inquiry
As in many developed nations, the UK population is ageing. By 2035 there are projected to be more than 16 million people over the age of 65 living in the UK; meanwhile, the population of working-age people is likely to remain the same.
However, despite improvements to life expectancy, healthy life expectancy (the number of years a person is expected to live in good health, without disability) has not increased at the same pace.
In 2018, the UK Government set itself a mission to "ensure that people can enjoy at least five extra healthy, independent years of life by 2035 by narrowing the gap between the experience of the richest and poorest".
In July 2019, the House of Lords select committee began its inquiry into ageing, covering aspects of science, technology and healthy living. Its aim was to assess the feasibility of the Government's ageing mission and to understand the role of science and technology in meeting this goal. 
The committee received a large amount of written and oral evidence
UCL's contributions
In February 2020, UCL researchers, including the Institute of Healthcare Engineering then-Director of Digital Health, Professor Ann Blandford, gave spoken evidence to the inquiry. This followed on from an earlier submission of written evidence by ten academics from across UCL in 2019.
 Last year, Professor Blandford noted the importance of various sectors working together in order to achieve advancements in healthy ageing: 
"Moving in the right direction will involve engineers, social scientists, members of the public and regulators of many different authorities working together to a degree that, I think it is fair to say, we have not worked together in the past". 
The inquiry's findings and recommendations
Crucially, the inquiry found that the nation is not on track to meet its target of 'five extra heathy years' by 2035; in fact, healthy life expectancy at birth for women has decreased over the last decade. The report states there are also "shockingly large differences in healthy life expectancy amongst ethnic groups". 
The authors state "there is no time to waste" if the Government wants to achieve its mission. At the current rate of improvement, it will take 75 years to achieve the target set in 2017.
The report identifies improvements in the understanding of the biology of ageing and pharmaceutical advances as important long-term tools, and suggest funding for these should be prioritised.
Whilst there are technologies and services that help people live more independently and healthily in old age these need to be more broadly rolled out across the population, and focus should be placed on equipping older people with the digital skills to benefit from them.  The report recommends the Government makes strategic investments in AI, emerging robotics and data-driven technologies to develop national expertise.
Commenting on the report, Lord Patel, Science and Technology Committee Chair said:
"The Committee found that the Government needs to urgently address the key issues of reducing health inequalities, implementing health system reforms and promoting lifestyle changes.
 "The Government must therefore act now to increase support for the exciting new scientific research that targets the underlying processes of ageing. Treatments are being developed that could improve health without the need to treat multiple separate illnesses. Furthermore, technologies can be better utilised to help people live independently for longer."

Niccola Hutchinson-Pascal and Lizzie Cain are part of Co-Production Collective, whose vision is a world where diverse knowledge and lived experience is as considered as important as researcher input in the development of research. Below, Niccola and Lizzie outline the Collective's approach to co-production and discuss how they are working to influence culture change.
In recent years there has been growing focus on co-production in research. It has become a bit of 'a buzzword' with many funders asking for it as part of research proposals. Unfortunately this has sometimes resulted in what has been coined 'faux-production', pretend or fake co-production. Authentic or 'real' co-production requires significant commitment, but the resultant research will be so much stronger for it. 
Co-production Collective is a community where everyone is welcome. Together, we learn, connect and champion co-production to create lasting change. We have avoided getting too tangled up in debates about the 'definition' of co-production. For us, co-production is an approach to working together in equal partnership for equal benefit. It means living our Core Values (shown below) in the way we work, whether that's checking and challenging ourselves and each other, or taking the time to reflect on our activities to see where we can learn and improve. We are human, inclusive, transparent, and challenging.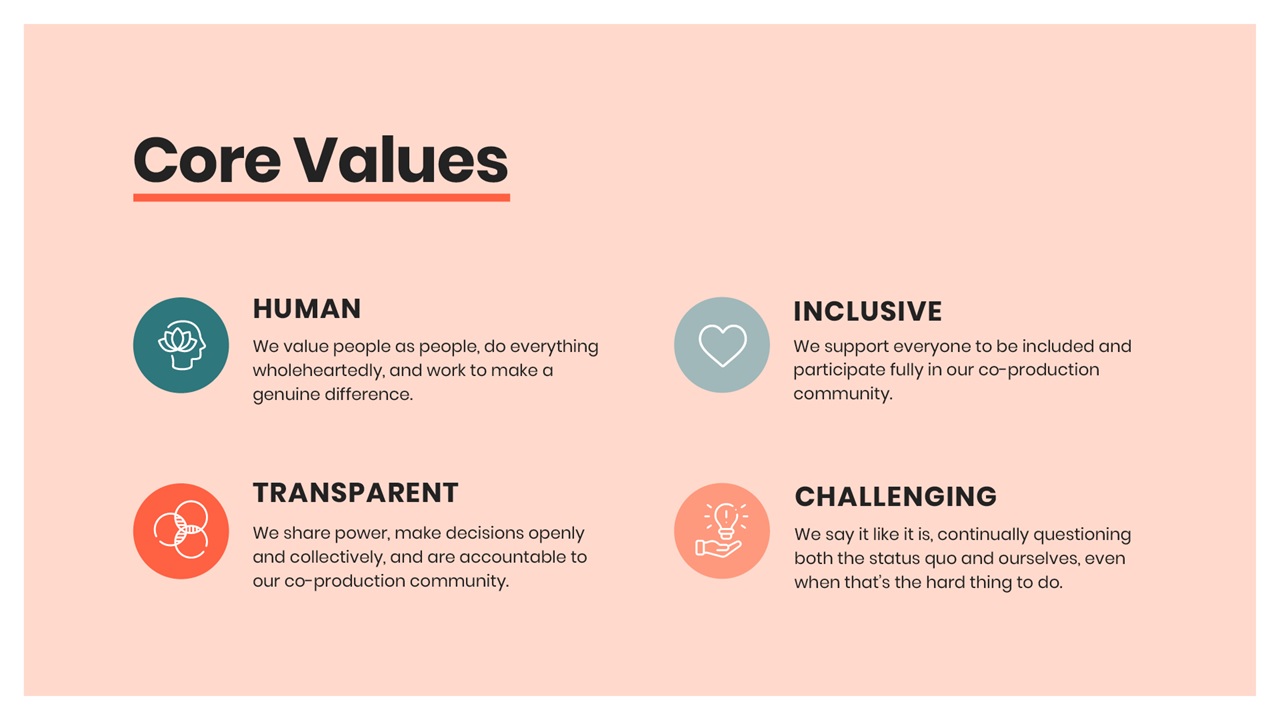 Image credit: Co-Production Collective, Our Values (@UCL_CoPro)
We are ONE team
It is great to hear that the Age Innovation Hub are interested in exploring 'the democratisation of who is considered an expert'. At Co-Production Collective, we consider ourselves 'one team', colleagues and friends all sat around the table together (real or virtual) sharing power and decision making throughout. As the artwork below (from one of our co-producers Beth) demonstrates, we don't believe any individual person's skills or experience are more important than another's - they are just different. We all sit around the table as equals.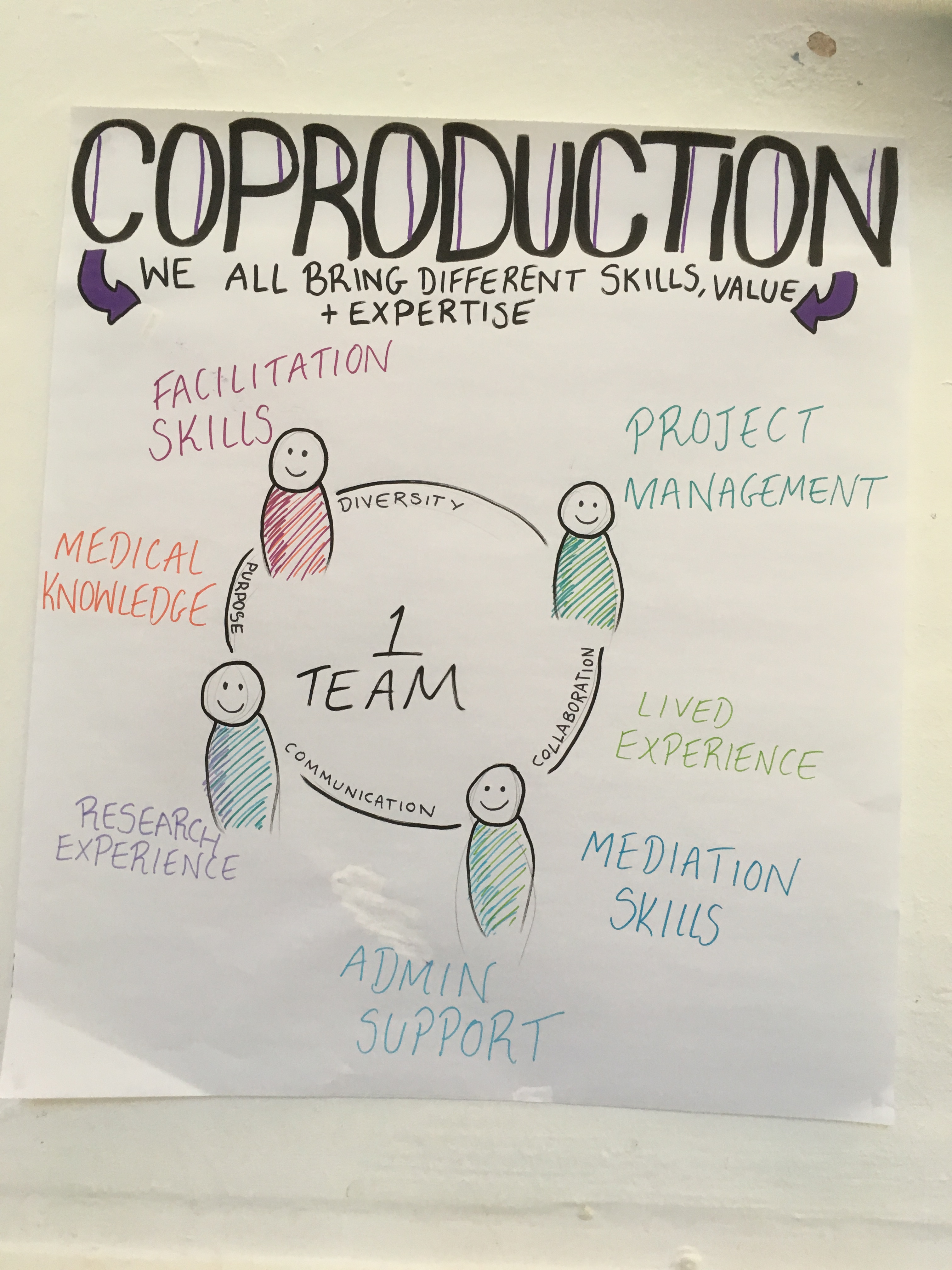 Image credit: Co-production's One Team, Beth Ingram (@Beth_1day)    
Inclusivity 
Being inclusive is key when it comes to co-production and should be considered in everything you do. Are you excluding people by using complex language or jargon? Was everyone able to participate in your session, or were some people struggling? Also, as a Collective we are very vocal about the importance of opening up opportunities to a diverse group of people (please feel free to have a read of Space Wars: exclusion from researchand HARD TO REseARCH: black inclusion in researchand It's not enough to say Black Lives Matter).
Making sure your activities are accessible is also very important. For example, think about the fact that many online collaboration tools do not work for someone who is using a screen reader, or even sometimes for people using a phone, and proactively decide to use something else. Or, if the session is face-to-face, make sure that the venue is wheelchair accessible, there won't be loud noises outside, or very bright lights that might be difficult for someone with sensory needs to manage.
Learn more
If you'd like to find out more about Co-Production Collective, you can start by checking out our brand new strategy: 'Our Direction 2020-2022'.  This sets out who we are and what we're working towards. You are also more than welcome to join any of our events or co-production opportunities, which take place both online and offline. They are not training sessions (although we will be launching some training soon) but they are a chance to experience co-production, make connections and learn as you go. 
The best way to keep up to date with what we have going on and to find out how to join sessions is to sign up to our newsletteror feel free to visit our webpage.
We look forward to meeting you soon! Feel free to email us on coproduction@ucl.ac.uk- we're always up for a chat!
Thank you,
Niccola and Lizzie

Pauline Garvey and Bláthnaid Butler wrote this blog as part of their work exploring the Anthropology of Smartphones and Smart Ageing. The project investigates changes in people's relationship to age and health associated with the increased global use of the smartphone technology as part of our lives. Interested? The team have written some related pieces available through this UCL blog series. 
This piece looks at the vulnerable 'cocooning' during the first wave of the pandemic in Ireland and their transitions as restrictions lessened. 
After two months of lockdown, Covid-19 restrictions started to be lifted in mid-May in Ireland. Instead of having to stay at home or venture only 2 km from home, people were allowed to travel 5 km and then finally, anywhere in their own county. As in other countries, the sense of excitement was palpable and many Dubliners spoke of their sense of relief in being able to meet friends, albeit with social distancing and venture further than they had for several weeks. Sports reopened to a limited degree, particularly non-contact sports, and among them, golf clubs and tennis courts were opened.  Debate continues about whether masks should be mandatory in supermarkets and on public transport. However, the measures put in place to protect older people who were cocooning is being received as a mixed blessing.
Some over-70 years old find themselves conflicted between recognising the necessity of cocooning on the one hand, while feeling pigeonholed in the category of 'vulnerable' on the other. Being 'at risk' implies being sheltered and protected but ultimately also denied the same freedoms as other members of society. One place where this was most visible was in the opening of sports clubs, particularly tennis courts, which were 'off limits' to the over 70-year olds.  Aware of the bubbling controversy, chief executive of Tennis Ireland Richard Fahey commented that "We are aware that there is an issue. Over 70s feel they should be allowed to go out and play tennis. But they are not the only group that is restricted in this phase"[i]. People who see themselves as fit and agile thus find themselves excluded from their regular hobbies, not as something self-enforced but as an imposition for 'their own good'.  And this is a particular problem for those that do not see themselves as vulnerable or who consider that the category of vulnerable is too narrowly assigned to a chronological age rather than a health condition and which does not reflect their vitality and overall general health. This issue is central to our research in ASSA and discussed in detail in our forthcoming publications[ii].
It is not surprising, then, that when it comes to food, such issues arise and are frequently fraught.  Anthropologists have long been aware that the rituals around food and producing meals is pivotal to the construction of the home and family[iii]. Mealtimes rules and routines create family roles and socialise family members. We learn about the duties of gender, care and morality through the work of provisioning and preparing food. But when is it appropriate to express reliance or autonomy? And when do practices of care transition from a help to a hindrance? One 'cocooner' complained that when she first emerged in the public sphere and walked around the shops, she sensed people were looking at her and that she didn't feel welcome.  She described her sense of surprise because she felt so self-conscious that she eventually retreated home.
During the lockdown, community organisations were mobilised to shop for cocooners. In Dublin, local community groups such as church groups, scouts and sports clubs set up groups on WhatsApp to shop and drop for people who needed help. Amongst families too it was common for adult children to bring weekly provisions to their parents so that they could stay home. While adult children prefer to do the shop because 'it's no bother', we have found several instances where the parents prefer to be autonomous. One couple watered down their milk rather than ask their daughter to pick them up some more. Reasons for this included a mix of emotions such as fear of being a burden, exposing her to further risk and being prepared to make 'small sacrifices' or 'do without' because they decided it was 'non-essential'. However, as soon as it was possible to venture out and shop for themselves, cocooners have often chosen to do so, preferring some risk in order to express their autonomy. At this particular moment, when the lines between safe and unsafe, lockdown or openness are blurred, older people hover between social categories that fluctuate between the vulnerable margins or the robust mainstream. When there is a lack of clarity over what is safe or not, it is worth remembering that efforts to keep groups safe not only impinge on their physical wellbeing but may also work to pigeonhole and marginalise them in unanticipated ways. Lockdown practices are not only rationalised actions but are saturated with sentiment and often conflicted.

Dr Kalpa Kharicha, Head of Research, Policy and Innovation at Campaign to End Loneliness has written a blog on the importance of using psychological approaches to help tackle loneliness, and why it's important for more research to be carried out in this area. This blog was written to mark the launch of their landmark report on 'The Psychology of Loneliness'.
Interested in the UCL Age Innovation Hub challenge 'Building Social Communities'? This blog will be of interest to you.
Loneliness is an emotional response that many people are familiar with. Understanding how psychological approaches can help ease feelings of loneliness and shape our response can help us improve support for older people who are lonely.
That's why we're delighted to launch our new report: The Psychology of Loneliness.
This report brings together the research with views and experiences of older people, policy makers, and organisations who work with older people.
"Understanding the 'internal' experience of loneliness and how we can respond to it has never been more relevant."
We know a lot about the factors that can lead to older people feeling isolated and excluded and the life events that can contribute or trigger loneliness in later life.
But we know less about the 'internal' factors that can shape someone's experience of loneliness and cause loneliness to become more severe.
Launching this report during the Coronavirus pandemic, we recognise the profound impact it has had on our social behavior and ability to connect with people and our environment. Understanding the 'internal' experience of loneliness and how we can respond to it has never been more relevant.
Why it matters
People use words like anxiety, fear, shame and helplessness to describe how loneliness makes them feel. These powerful emotions can influence how we behave. It can make people wary of social situations or perceive interactions with others more negatively.
How people understand why they are lonely can also make a difference to their experience of loneliness. Loneliness can become chronic if it is seen as something we cannot change. Believing that loneliness is part of who we are, and that we are to blame for it in some way because our relationships are not what we would like them to be, can make loneliness harder to 'shift'.
"Public campaigning can create awareness of how loneliness influences thoughts, feelings and behaviours and how this can affect our relationships over time."
If loneliness is considered an expected part of becoming older, either by the person themselves or the society in which they live, it can become a self-fulfilling prophecy and make loneliness in later life more likely.
Whilst we don't know how these factors influence each other, we can see that psychology matters in our understanding of loneliness. And we need to draw on this, along with what we already know about the social and structural influences on loneliness, when we develop support for people who are lonely.
Psychological approaches
There is early evidence that cognitive behavioural therapy (CBT), mindfulness and positive psychology can reduce loneliness in later life.
These three approaches share key principles. They identify the automatic negative thoughts and feelings which can become overwhelming over time and influence behavior. They use specific techniques to challenge these patterns and replace them with more manageable and positive ways of responding.
In practice we found several examples of these approaches already being used, commonly drawing on a mix of approaches to best suit the person and their circumstances. When delivered by a trained practitioner they allowed time for reflection and support to identify a meaningful response.
Using the information in this report, we call for organisations to identify existing use of psychological approaches within their work, design future programmes to explicitly include psychological approaches, and evaluate their impact on loneliness.
This will help to identify which factors, or combination of factors, are effective at reducing loneliness, and for whom, and further develop the evidence base for loneliness interventions.
What we can do
The insights of psychology can be used to tackle loneliness in three key ways.
Public campaigning can create awareness of how loneliness influences thoughts, feelings and behaviours and how this can affect our relationships over time. Social relationships need to be nurtured over the life course.
Group activities, including services and support for older people need to consciously build in an understanding of the psychological and emotional barriers to engagement when developing and delivering services and in training for staff and volunteers. Psycho-education can help people manage life event and transitions which are known risk factors for loneliness.
For a smaller group of people with chronic loneliness which may be part of a complex set of problems, one-to-one psychological support can help. This can be particularly relevant for those seeking support following a bereavement which has triggered feelings of loneliness, or for those with mental health problems.
We hope the insights in this report serve to highlight how psychological approaches can help with tackling loneliness. Support for loneliness can be better tailored, and more effective, if it recognises both the internal and external aspects of a person's experiences of loneliness.
We'd like to thank our Advisory group members from the British Association for Counselling and Psychotherapy, Cruse Bereavement Care, Relate and the Royal College of Psychiatrists, who provided their expertise and insight throughout this process. We'd also like to thank KRI Loneliness and Social Isolation in Mental Health Research Network at UCL, who conducted the evidence synthesis for the report. 

Charlotte De Grijs designed this system whilst studying her MSc in Wireless and Optical Communications at UCL. She wrote this blog for us (2020) exploring the need for such a system and her personal motivation from her grandfather's experiences. 
This project, Design of Sensor Based Communication System for Hospitals, is continuing at UCL in UCL Institute of Communciations and Connected Systems under the supervision of Director Professor Izzat Darwazeh.
My project includes the design of a sensor-based communication system which will be used for patient monitoring in hospitals, such as a patient falling out of a bed or for bedsore prevention. The project includes the design of a wireless communication network, utilizing sensors (placed on beds) and focuses on communication without interfering with other medical devices. As well as the reliability and security of the connection required for the patient data protection. The sensors used are multi-axis sensors, which include two different types of movement sensors. These sensors are used to measure the behaviors of the patient on the bed, some applications include bed occupation, fall monitoring, bedsore prevention and bed location. 
Each hospital bed is mounted with a single sensor and the data is used to detect what movements occur, using machine learning. The outcome of the movements will be used to inform the nurses and doctors about the state of the patient through notifications created by the system. This allows the nurses and doctors to monitor several patients simultaneously over different floors. An initially unseen benefit of this project will be for the nurses, as they obtain several injuries from moving patients around to prevent bedsores. The risk of injury will be reduced for the nurses as they will only have to move the patients if they receive a notification that the patient hasn't moved in two hours. 
Earlier this year my grandfather passed away due to complications obtained from falling out of his care-home bed and the nurses not realising for several hours, so with the application of fall monitoring I hope to help prevent any further accidents. 

UCL researcher Prof Ann Blandford writes about what technology developers need to keep in mind when designing for older people
The topic of "healthy ageing" is seen a very important. For example, in the UK, there is a challenge of "5 extra healthy years by 2035". It's not clear how that will be measured, or indeed whether it means 5 extra years of life (that will be healthy ones) or targeting improved health within the current lifespan.

At UCL, we had a panel discussion on this theme at the 2019 Institute of Healthcare Engineering annual symposium, and the House of Lords Science & Technology Committee is currently conducting an Inquiry into Ageing: Science, Technology and Healthy Living. I had the interesting experience of appearing before this committee. The discussion was wide-ranging, but inevitably didn't cover all the themes that are important: it's a huge topic!

Here are a few themes we didn't talk about that I think are important in this discourse:
Expectations of ageing. There isn't a single experience of ageing. Yes, there can be challenges, such as cognitive impairments (e.g., dementia) and managing multiple morbidities, but this isn't a universal experience. For example, Angela Soper and Ivor McCourt are both climbing at a high standard in their 70s, and many people have great fun as they age, whether it involves demanding physical activity or not.
Wisdom has a value that complements the qualities of younger generations, and most people have valuable things to contribute to society, provided that structures are in place to empower people to contribute in whatever ways they can.
There isn't a single date on which we become "old", and good design should be accessible to most people regardless of their age. Indeed, people are likely to find a technology useful in older age if (a) it doesn't carry a stigmatising label of being "for older people", and (b) it is something that they have found useful for some time (and are familiar with).
Theories such as Self Determination Theory highlight the importance of experiences such as autonomy, competence and relatedness in contributing to quality of life. Autonomy and competence can be promoted or diminished through technology design and the infrastructure that surrounds it. For example, local government services that can only be accessed digitally without providing support for people with limited digital skills are disempowering. Conversely, technology that is easy to use and that gives people access to services they might not be able to access otherwise is empowering.
Loneliness is one of the most important factors in poor quality of life and cognitive decline in older age. This is predicted to be a growing problem in the UK, and loneliness is associated with mild cognitive impairment (MCI) and dementia. Poorly designed technology and infrastructure contribute to loneliness, but there are some great opportunities to design technologies that bring people together and increase people's sense of connectedness.
Designing for people of all generations is just that: designing for people, recognising that everyone has their abilities and their needs. There's a quotation that goes something like: "Growing old isn't so bad when you consider the alternative." For some people (e.g., in pain or managing dementia), this might not be true, but hopefully, appropriate technologies can help to make later stages of life a positive experience for many people. So can cliffs and swings and other "low tech" stuff!
Load more